Rakhi – The Thread That Binds Unconditional Love!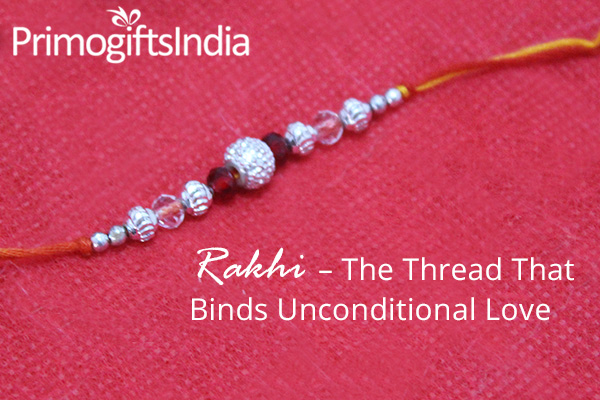 Raksha Bandhan celebration is the festival to express the immaculate love between brothers and sisters. This festival is being celebrated with fervour and joy since ancient period in India. Rakhi epitomizes the unconditional love between brothers and sisters.
Ladies start the preparation at least a fortnight before the festival. In order to make the day special, they buy Rakhis, Rakhi gifts, Rakhi pooja thalis (http://rakhi.primogiftsindia.com/rakhi-thalis-45.html), sweets, etc. for making the day special. This is also an occasion for family get together where they collectively celebrate this sacred festival. Exchange of beautiful Rakhi gifts among dear ones make this occasion a sweet remembrance for many years to come.
What is Rakhi and Why It Is Significant?
Rakhi is basically a sacred thread of protection embellished with the love and affection of a sister for her brother. This day is also known as Raksha Bandhan and celebrated on the full moon day of the Hindu month of Shravana in India. This frail of thread of Rakhi is considered as stronger than iron chains as it binds the most beautiful relationship in an inseparable bond of love and trust. Rakhi festival also has a social significance because it underlines the notion that everybody should live in harmonious coexistence with each other.
You can send Rakhi to USA and even send Rakhi to UK (http://rakhi.primogiftsindia.com/send-rakhi-uk-50.html) with the help of online Rakhi selling and transporting websites. You can chose from a wide range of exciting Rakhis available in these websites, hand-crafted just for you. From Chhota Bheem themed Rakhis to sophisticated enamel beaded Rakhis, there is ample for you to make a smart choice. You also have the option of availing great looking Bhaiya-Bhabhi Rakhis (http://rakhi.primogiftsindia.com/bhaiya-bhabhi-ki-rakhi-122.html) which you can gift to your brother in-law if you do not have a sibling of your own.
You can also find gorgeous Lumba Rakhis, thread Rakhis (http://rakhi.primogiftsindia.com/rakhi-threads-42.html), silver Rakhis, gold Rakhis and Zardosi Rakhis. You can also find great eco-friendly Rakhis in these online Rakhi selling website. These Rakhis are delicately designed with withered leaves and real flowers. You can also avail Rakhis which are designed using papier-mâché and POP which in turn gives these Rakhis an eco-friendly as well as an innovative look. You can also opt for exciting Rakhi combo presents which along with a Rakhi of your choice includes sweets, chocolates and dry fruits.
Rakhi.primogiftsindia.com is an efficient online Rakhi selling website which offers various types of Rakhis including eco-friendly Rakhis. This website also facilitates free and hassle-free delivery and helps you to send Rakhi to Canada, send Rakhi to UAE and many other places.