Titivate Your Brother's Wrist with these Special Rakhis!
One of most awaited and joyous festivals of India, Raksha Bandhan is approaching with rapid speed and online marketplaces are all set with their exciting collections of Online Rakhi for Brother and Rakhi gifts for siblings to cater online shoppers. Rakhi.primogiftsindia.com is such an online platform devoted to online shopping Raksha Bandhan celebrations. The portal contains an exclusive collection of Special Rakhis for brother to serve those sisters who wish to tie something exceptional to adorn their brothers' wrist.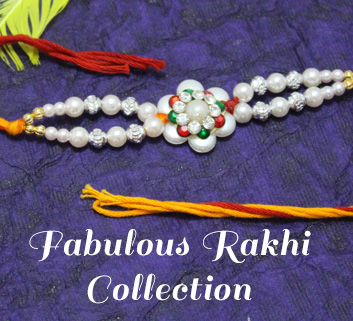 No doubt, the bond between a brother and sister is the most altruistic and eternal bond shared between humans. Those sweet and sour memories of clashes, arguments, tickling, favor, differences, are lifelong treasure for everyone. We all wish to live again those moments which are not going to occur again. But, luckily we have one day out of whole year to rejoice and honor this exceptional bond between siblings and that is Raksha Bandhan.On this occasion, sister adorns her brother's wrist with multicolor and charming Rakhi thread and prays for a happy and prosperous life ahead for him. On the other hand, brother takes oath to protect her loving sister from all hazards of outer world and treat her with fascinating gifts.
As Rakhi tying is most essential aspect of Raksha Bandhan celebrations, every sister wants to get the best Rakhi thread that can compliment her brother wrist therefore she explore all Rakhi sources such as physical Rakhi shops and online Rakhi podiums to find the ideal Rakhi for brother. With the intention of helping sisters to get best Rakhi, here we are listed some Special Rakhis for Brother from the collection of Rakhi.primogiftsindia.com.
Designer Rakhi (http://rakhi.primogiftsindia.com/designer-rakhis-725.html)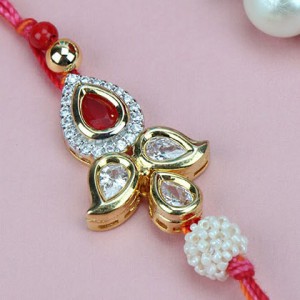 To adorn the bond and to add more charm to the brother's wrist, portal offers its unparalleled range of Designer Rakhi for Brother. This collection is inclusive of Rakhis such as Auspicious Bracelet Rakhi, Aesthetic Silver Beads Rakhi, Stone Studded Silver Rakhi and a lot more in unique designs. You can select perfect one from its collection of Designer Rakhi for Brother. These creative and graceful Rakhis will certainly win your brother's heart. Due to its unique design and eye-catching appearance, Designer Rakhi will be valuable possession of your brother.
Precious Stone Rakhi (http://rakhi.primogiftsindia.com/premium-stone-rakhis-738.html)
Pieces of precious and semi-precious stone such as diamond, moonstone, pearl, topaz, ruby, emerald, opal, onyx etc are used to make these elegant Rakhis. Precious Stone Rakhis have their own features and shine which render in Rakhi gorgeous gleam and add charm in it. Precious stone can be used collectively or separately in different designs and patterns to produce fabulous out comes. Due its splendid appearance and stunning craftwork with stones, Precious stone Rakhis are thoughtful gifts and jewelry as well.
Silver Rakhi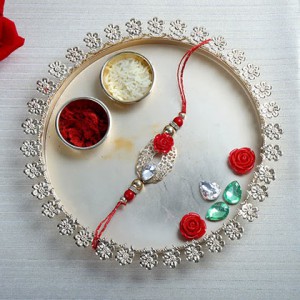 Silver Rakhi comes in a range of sizes, designs and patterns. These Rakhis are available in reasonable prices because of inexpensive nature of Silver metal. You need not to look at your pocket size while purchasing a Silver Rakhi for Brother, you will certainly get something will be appreciated and loved by your dearest bro.
Jewelled Rakhi (http://rakhi.primogiftsindia.com/jewelled-rakhi-731.html)
Nowadays, Jewelled Rakhis are quite popular because it can also be carried as a stylish accessory besides Rakhi. Various types of stones, beads, stones and decorative items are used to make Jewelled Rakhis featuring metal strips (Gold, Silver, Copper and brass) or silk strips. Jewelled Rakhi makes a pleasing and functional Rakhi gift.
Zardosi Rakhi (http://rakhi.primogiftsindia.com/zardosi-rakhi-733.html)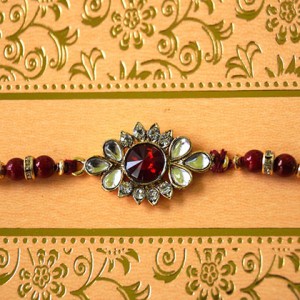 Zardosi Rakhi is a true instance of conventional Zari work. Apart from Rakhi thread, zari is used to make center dial Rakhi and it gives a graceful look to the Rakhi. Pieces of semi-precious stones, stones, beads and twinkles are additionally used to give an artistic and elegant appearance to the Rakhi. Beautify your brother wrist with this Rakhi and let feel exceptional on upcoming Raksha Bandhan.
Auspicious Rakhi (http://rakhi.primogiftsindia.com/auspicious-rakhi-723.html)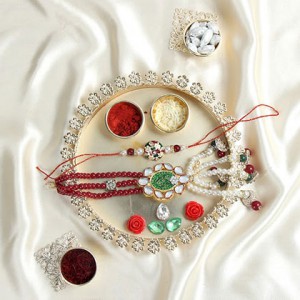 Auspicious Rakhis are prepared of pleasingly designed statuettes of divine idols and holy signs to give Rakhi a more propitious feel. These are design with the shape of most popular holy deities on them to enhance the entire charisma. Tie a beautiful Auspicious Rakhi on your brother's wrist and bless him all positive vibes.
Pearl Rakhi (http://rakhi.primogiftsindia.com/pearl-rakhi-724.html)
Pearl Rakhis are made of lucky mauli thread or thread of silk and elegant white Pearls are adorned for a graceful and stylish look. This charming Rakhi comes in flower-patterned designs, as a series of Pearls, in alliance with other pebbles and in blend with metals like gold and silver. This Rakhi will sure to a precious possession of your brother and center of attraction for others.
Considering above mentioned Rakhis you can choose best out of these special Rakhis for brother available on the portal. Reasonably prices these rakhis are available in different patterns, shapes and color combinations. Apart from these Rakhis, the collection of Rakhis at Rakhi.primogiftsindia.com includes loads of more dazzling Rakhis, therefore, don't waste your valuable time and place your order now.
Save
Save
Save